Testimonials
Welcome to our Testimonials Page - a showcase of the satisfaction and delight experienced by our valued customers across Northern California! As a leading contractor specializing in the design, manufacture, and installation of TRU VIEW Patio Covers and Sundance Louvered Roofs, we take immense pride in delivering unparalleled quality and service. Discover firsthand the stories of homeowners and businesses who have entrusted us to enhance their outdoor spaces with our innovative and durable patio covers. From design to installation, our commitment to excellence shines through, creating outdoor havens that stand the test of time. We look forward to adding your satisfaction to our growing list of success stories!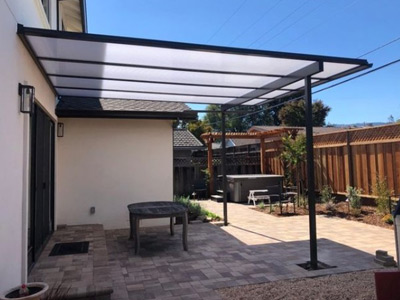 It was a pleasure working with Isaac and his team to install our custom patio covering. We asked for a sleek/modern cover that would still allow light to pass through, but also protect us from the heat and this was perfect. Due to the height of our doors, we needed a custom covering and couldn't use a pre-built. It took us over a year of searching and Patio Covers and More delivered at a reasonable price. The team was responsive and professional throughout the entire process, answered all of our questions, and provided a 3D image of the final design before manufacturing. The estimated lead time was accurate and they completed the installation in 2 days (1 day if it hadn't rained). The final product looks great and we love the way it turned out! Highly recommend for custom work.
~ Peter T.
(July 2023)
Patio Covers Delivers exceptional craftsmanship in a timely fashion. I highly recommend jumping on a call for yourself. I'll be coming back for future projects.
~ Jake Tital (May 2023)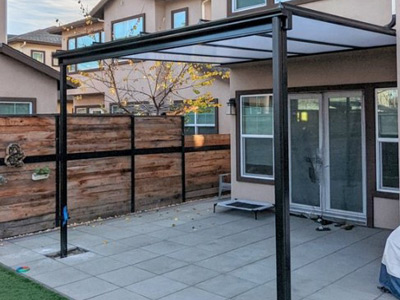 Patio Covers and More did a wonderful job, by the way. He also had a creative solution for the gutter drainage (rerouting it back to the roof gutter so we don't have any water exiting on the patio). The patio structure looks amazing, we are very happy with it! I will be happy to refer your products to any friends who are looking for a patio structure.
~ Gary M.
(March 2023)