Patio Cover Products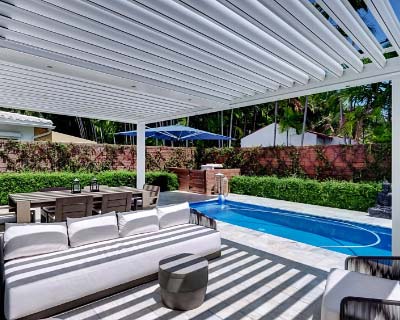 The Sundance Louvered Roof is a high-end motorized shading solution that lets homeowners quickly adjust the louvers, letting in heat and sunlight where and when it's most convenient. The Sundance Louvered Roof and TRU View Acrylic patio coverings that we provide are a result of years of industry expertise, extensive research, and meticulous development. Every structure is made to withstand any weather condition. The company offers a high-quality, long-lasting, and aesthetically pleasing product, made of extruded aluminum for Sundance covers. With TRU View, each cover is custom-made with its own characteristics to create a clear and elegant outdoor retreat worthy of a luxury resort any time of year. We understand that every property owner will have specific needs, so we offer customization options to our clients. Our knowledgeable team is here to help you with all the details and specifications of our products. We work closely with clients to ensure they get the types of patio covers that work perfectly for their needs.
TRU VIEW ACRYLIC PATIO COVER
Covering a patio isn't preferred by many homeowners since it blocks out light and blocks their view of the backyard and surrounding greenery. In this case, a TRU VIEW patio cover would be ideal. TRU View patio covers reflect roughly 80% of the sun's heat. The acrylic sheet is more affordable than glass and protects from harmful UV rays while being durable and impact resistant. The product functions best when used in an overhead arrangement. Their nonstick finishes and heavy-gauge extruded aluminum frames make cleaning a breeze. These coverings may be adjusted to suit a wide range of aesthetic needs, from a traditional wooden framework to a sleek, understated look. Color options for both the acrylic and the frame are provided. You can let in a large amount of light or get more shade. This acrylic patio cover looks great in any setting and complements all styles of homes. Read more about TRU VIEW Acrylic Patio Covers >>
SUNDANCE LOUVERED ROOF
The classic motorized Sundance Louvered Roof is a residential louvered roof system that offers control over the heat, sun, and shelter for homeowners looking for an al fresco cover solution for their custom-designed outdoor space. This allows homeowners to maximize their outdoor living area, spend more time outdoors, and have a retreat that can be used all year long. Luxury motorized covers like the Sundance Louvered Roof make it simple to adjust the slats and focus light and warmth exactly where needed. It's the best luxury patio cover because it lets you manage the sunniest spots with cooling shade and invigorating air flow, expanding your options for using your outdoor room. If you're looking for a high-quality louvered roof that can withstand heavy rain, snow, and wind, go no further than the Sundance Louvered Roof. We can provide you with all the details you need about the Sundance Louvered Roof System and help you with selection and installation. Read more about Sundance Louvered Roof >>
Even with high-quality patio shade products, you will still need skilled and experienced professionals to handle the installation. When you choose to hire us for TRU View patio cover or Sundance Louvered Roof installations, you know you are choosing the best. We are one of the most sought-after companies in the field and offer reliable, cost-effective, superior patio cover installations. Whether you want a high-quality Sundance louvered roof for the perfect play of sun and shade or the unique, unmistakable beauty of a TRU View Acrylic Roof Cover, we can help. We are here to work with clients and offer tailored solutions. Our approach and focus on quality offer our clients value. For more details about our TRU View patio covers, please call Patio Covers and More at 510-363-5547. If you prefer to write to us, please use this Contact Us form to send us an email, and we will respond soon.